Honey is deemed as one of the superfoods that mother nature provides us. With that being said, most of you who are reading this article know about the many benefits it has. But, did you know that honey also has the ability to lighten your hair shade? Read further to find out interesting facts about using honey as a cosmetic product and an additional bonus recipe for you to try. 
Does honey actually make your hair white? The answer is no. Honey has a particular agent that lightens your hair color but does not make it white. Just like how the natural acidity of lemons lighten your hair, the naturally occurring lightening agent in honey (hydrogen peroxide) is a safer alternative to store-bought hair lightening products.
The famous historical figure, Cleopatra used honey during her time to keep her skin supple and her hair moisturized. Even during the early times, shamans and other healers have used honey as part of their medicinal concoctions. It is no wonder that other uses for honey emerged later on.
If you're interested in buying a gift for someone special then I highly recommend Farmacy Honey Potion Renewing Antioxidant Hydration Mask
Myth or Fact?
Many use honey as a sweetener and as an ingredient in their recipes. Large companies even have beauty products that contain honey due to its moisturizing effect. Others have used it in more unorthodox ways like as a hangover cure, nail conditioner, scar lightener and my favorite, as a shaving cream substitute. However, the one that really piqued my interest is that some are asking if honey can turn hair white!
I give the people who started this craze, kudos for creativity, but this is actually just a myth (busted!). I do understand how this myth came to be, though. One of the popular uses for honey is as a moisturizer. Shampoos, conditioners, lotions, and other cosmetic products have incorporated honey in their recipes because of this. It is also this moisturizing aspect of honey that paved the way for it to be used as a hair conditioner. The people who used raw honey as part of their daily facial regime noticed that their eyebrows lightened. Soon, they used the same raw honey on their hair and found that it does lighten over time.  This is where the myth began.
That being said, it is important to take note that the people who use store bought honey did not get the same lightening effect. Only the ones that used raw honey experienced it. And as time went on, others joined the fray and used raw honey to lighten and also moisturize their locks. 
Science Behind Honey's Hair Lightening Effect.
There have been countless testimonies from honey users regarding the lightening effect it has on hair. Some are still skeptical and still requires further information on how can honey lighten hair color. In this section of the article, we will go into detail about how honey can lighten your hair.
Honey has trace amounts of a chemical compound called "hydrogen peroxide". This compound is very well known in the cosmetics industry because of its hair lightening effect. However, in store-bought hair lightening products, the level of peroxides vary depending on how light you want your hair to turn. In honey, only a small amount of this chemical is present and therefore can only give you a subtle and more natural looking lightening effect.
An easy explanation of how this compound lightens hair is that it works its way into your hair shaft and dissolves the natural pigment of your hair. When natural pigments are dissolved, your hair change color. Usually, hair lightening products require another chemical (ammonia)l to help hydrogen peroxide reach your hair shaft and dissolve your natural hair pigment. 
From the research I did, there are also testimonies that say using honey to lighten their hair shade didn't work. So I dug in deeper and went into different sites and forums to gather further information. It turns out, people with natural light-colored hair are the ones that have the most satisfying results while those who have darker shades of hair either say that there is no change at all or the change is so minimal that it is not noticeable.
Step By Step Guide
If you still feel that you want to try this honey hair lightening method, below is a step[ by step guide for you.
Mix honey and water or apple cider vinegar in a container. Follow the ratio of 4 parts honey to one part water or vinegar. You can choose to add a few capfuls of hydrogen peroxide if you want a lighter shade.
NOTE: If you have black or dark brown hair, I strongly discourage using peroxide as it may turn your hair orange. Those with lighter hair can add some cinnamon, cardamom, henna powder, or even ground coffee to produce a reddish tint. 
Leave the mixture to sit for about 30 minutes up to one hour. This would be an important step if you chose not to mix peroxide with your honey solution. Letting the mixture sit will help it to produce naturally occurring peroxide that will lighten your hair.
Apply the mixture on wet hair and make sure that all of your locks are thoroughly saturated. Use a shower cap or cling wrap to cover your hair once you're done.
Tip: I recommend using a thin sheet of cloth or paper towels to wrap your hair before putting on a shower cap. This will lessen the amount of honey solution dripping out but not absorb too much of the solution from your hair too.
Leave the mixture on your hair for 2 to 8 hours, depending on your desired effect.
Rinse it out with warm water then proceed with your normal shampoo and conditioner routine.
NOTE: Another thing to keep in mind is that honey can only lighten your hair as much as 2 maybe 3 levels lighter than your current shade.
Other Benefits Of Honey On Hair and Scalp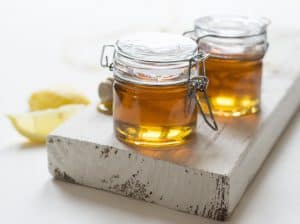 Honey is a great source of moisture, and so it is only predictable that it also has other beneficial effects on your hair and scalp.
It is a great dandruff cure even for kids. The natural viscosity and moisturizing ability of honey make it an effective alternative of anti-dandruff shampoos sold in the market.
It is also a great hair conditioner additive. You can boost your current conditioner moisturizing effect by mixing honey to it and using it regularly. 
Because of its moisturizing properties, honey can also be used to combat split ends. Try dipping your hair ends in honey once in a while to give it the moisture boost it needs.
Honey also has the ability to soften the facial hair of men, making it easier to shave while also providing moisture on the skin.
Let us not forget the other benefits that honey has on your overall health. It is a great allergy cure, can heal scrapes and cuts, heal chapped lips, and can even cure insomnia. With all these possible uses for honey, there is no reason why shouldn't stock up on it and while you have plenty of supply, go ahead and give the hair lightening recipe a try. If it doesn't work, you'll end up with moisturized, supple, and shiny hair. I don't think that's bad.
BONUS: Honey Hair Conditioner Recipe
This conditioner can be used by people who want to maintain the current lighter hair shade they have or by anyone who wants to have a more moisturizing conditioner for their locks.
Prepare the following items:
Mixing bowl
Whisk or fork
Storage for Conditioner. A mason jar will do, or an old conditioner bottle, preferably with a pump will also work.
Honey
Conditioner (make sure the scent of the conditioner mixes well with the natural scent of honey.)
Procedure:
In a mixing bowl, measure a ¼ cup of honey with ½ a cup of conditioner.
Mix the two ingredients well using a whisk or a fork.
Transfer the mixture in a sealed container and store out of direct sunlight.
Use just like a normal conditioner.
Tip: Leave the honey conditioner on your hair for 5 – 10 minutes for better effect. Also, if you feel your hair getting too sticky, you can tweak the recipe to include less honey and more conditioner. Adjust the amount of the mixture you make to match your needs. Longer or thicker hair requires more conditioner than shorter ones. Preparing a batch that can last you at least one week will be more time-saving.
Wrapping It Up
Just to wrap things up, honey is one of nature's miracle cures for many things and apparently, can be used to lighten your hair color by up to three levels. However, the effect of using honey as hair lightener varies from hair type to hair type. It does not make your hair white at all. You'll get better result bleaching your hair versus using honey. But if you do decide to try it out, know that you'll also get a host of other benefits from using honey. Also, don't forget the recipe for honey hair conditioner included in this article!